Buy wristwatches online @Timeshop24
Name brand wristwatches at permanently low prices
Your new favourite wristwatch is supposed to be an eye-catcher and a useful, maybe just a chic accessory you enjoy every day?
In our online shop you will find oversize models from Police, stylish timepieces from hip newcomers like MVMT or robust Swiss wristwatches from brand manufacturers like Luminox or Swiss Military. Ladies and men's brand watches that you will enjoy for a long time.
Our tip: If you are not only enthusiastic about the elaborate processing of some models, but also about technical details, e.g. the movements, then you will find some worth knowing information about this below: read on.
You should know this before you buy your new favorite wristwatch:
Invest in the purchase Your new timepiece take some time and inform yourself about important facts of the diverse world of wristwatches - it will be worth it.

Please do not hesitate to contact us if you have any questions. We will be happy to advise you during your purchase. You can reach us by e-mail, telephone or chat.
In order to answer some frequently asked questions online, we have prepared the following worth reading information on the subject Watches for you:
The movements
Considering the requirements of a movement can help prolong the enjoyment of the watch. In particular, the more you learn about your watch, e.g. how to keep an automatic movement permanently operational without having to wear it daily.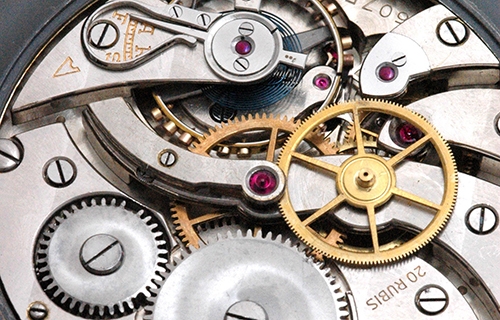 Mechanical movements
A mechanical clockwork contains a gear train, a spring mechanism as drive device, a vibration system for gear control, and other components.
A battery does not need this movement - as the name says, it is a purely mechanical technology.
The energy required by the movement to measure time is provided by tensioning the spring mechanism using a crown.
Mechanical movements must therefore be wound regularly.
Automatic movements
... are also mechanical in nature - but do not have to be wound as long as the watch is worn. The mechanism of the movement is tensioned by a rotor, which uses the natural movement of the arm and is set in motion by itself. This rotor movement permanently supplies the movement with the energy necessary for its operation, which is stored in the spring movement.
We recommend moving the watch mechanically during long periods of rest, e.g. with a watch winder. They prevent the watch from being completely discharged and prevent the movement from becoming resinous, which can occur as a result of very long periods of rest.
Quartz movements
A glance at the case back reveals whether you are holding a quartz watch or a mechanical watch in your hands. Quartz movements hide behind an opaque case back, while mechanical movements - in particular automatic movements - reveal the movement via a glass insert in the case back.
Many quartz watches are powered by a battery, which must be replaced regularly. Alternatively, many quartz watches are available on the market whose power supply is regulated by solar cells.
The popularity of watches with a quartz movement is based on a special robustness. Especially in the sports and leisure sector, these other watches have an advantage over them.
---
Timeshop24.de - That's why customers buy their watches online
- Beneficial prices - All watches at top conditions
- Delivery from stock - Our watches travel directly to you
- Secure shipping - Your watch will be packed like a raw egg, the shipping will be insured of course.
- Festlich mit Schleife - At your request you will receive your watch lovingly packaged as a gift.
- Customized for your wrist - Simply tell us the size of your wrist when ordering and we will shorten the wristband so that you can wear your new watch immediately accurately.